Pelion Terra is located in the heart of Pelion...
...just 600 meters from the famous Portaria, 50km from the traditional Tsagarada, and 12km from Volos' commercial and cosmopolitan city center.
This offers unique opportunities for exploration and a lot of interesting places to visit!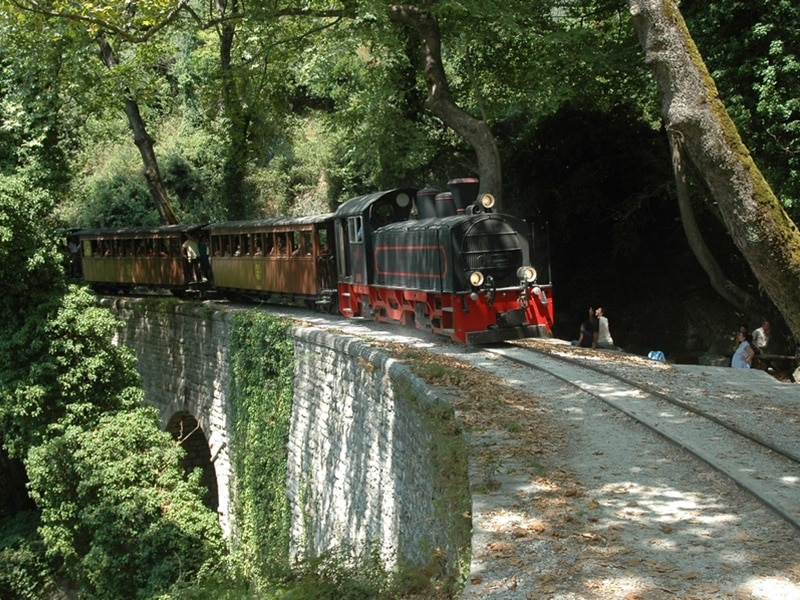 Portaria is both a winter and summer destination, and every year it receives a large number of visitors who wish to take a short break from everyday life. It is just 12 kilometers from the city of Volos and 13 from the ski resort of Pelion. It was built at an altitude of 650 meters around the Monastery of Panagia Portarea in the 13th century. In Portaria, visitors can walk the trails and cobbled streets and visit Byzantine churches and old monasteries.
Makrinitsa is a village built on a steep slope. It is a highly picturesque village, full of cobblestone pavements and traditional stone mansions in every corner, with its square full of centuries-old plane trees that offer a breathtaking view of Volos. Enjoy your coffee in the village square and visit the church of St. John the Baptist and admire the frescoes of the painter Theophilos dating back to 1910.
One of the oldest ski resorts in Greece, the Pelion Ski Center was created in 1967 by the Hellenic Mountaineering Association of Volos. Since 1997 the center has been managed by the Magnesia Development Company. It is located in the area "Agriolefkes" and is 12 km from Portaria, 2 km from Chania, and 27 km from Volos. The ski resort is very popular and busy during the winter season.
The Train of Pelion, Moutzouris
Pelion's train, the legendary "Moutzouris," was a dynamic element of culture and development and marked the history of the place. Its design and supervision were commissioned by Italian engineer Evaristo de Chirico, the father of the famous surrealist painter Giorgio de Chirico. Due to the morphology of the soil, a 60 cm line width was chosen, one of the narrowest rail lines in Greece and one of the narrowest in the world.
Zagora is the largest and most historic village of Eastern Pelion. It is 47 kilometers from Volos, and as it is spread on its green and sunny slope, divided into four large districts (Agia Paraskevi or Perachora, Agia Kiriaki, Agios Georgios, Sotira), it gives the impression to the visitor of a complex of four villages.
Tsagarada is the most cosmopolitan village of East Pelion and is a holiday destination every season of the year. The village is full of life, as it offers a host of hotels and traditional hostels, restaurants, taverns, cafes, and various folk and traditional art shops. The picturesque alleys of Tsagarada are perfect for your stroll while giving you the opportunity to admire the traditional Pelion architecture and the magic of nature.
Source:taxidologio.gr